Hassan Investments, LLC - Rentals
222 Mescalero Road NW Unit A - 1 Bedroom 1 Bath

Nice duplex in the North Valley in quiet residential neighborhood near 4th and Griegos.
Unfurnished 1 Bedroom.

Options for rent

$650/month on a 6 month lease
$625/month on a 12 month lease
$600/month on a 24 month lease
$500 Deposit
COVID-19 information:

In an effort to keep you and our staff safe we have implemented the following processes due to the pandemic:

Unit will be available to be shown on 8/1/20 since it is currently rented.
Unit has been sanitized and all knobs and handles disinfected.
1 set of applicants permitted to enter at a time.
If you are not comfortable seeing the unit in person, then visit http://hassan.net/ for virtual tour.
You can hold the unit right now, by putting in an application and upon approval putting down a deposit.
The unit will have all the surfaces cleaned and disinfected before you move in.

Features

Available 8/1/20.
665 square feet.
Separate dining area.
One 3/4 bath.
Tiled shower enclosure.
All rooms have tile.
3 miles from UNM.
2 miles from Downtown.
Iron security door on both exterior doors.
Has a fenced yard.
Swamp cooler and gas wall heater.
Tenants pay all utilities.
Ample off-street parking right behind unit.
Property manager carries 24 hr. pager.
On the 4th Street bus line.
Ample off-street parking in front of unit.
Property manager carries 24 hr. pager.
On the 4th Street bus line.
Laundrymat is 1/2 mile to the north on 4th street.
Grocery is 1/2 mile to the north on 4th street.
Walking distance to Los Puentes Charter School.
No washer/dryer hookups.
Two pets maximum less than 100 lbs.
$30 application fee.
575-221-9277 (voice or text 24x7)
(MPEG format)

Outside view



Living Room



Living Room (another view)



Kitchen



Kitchen (another view)



Bedroom



Bathroom



Bathroom Shower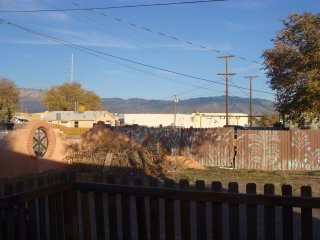 View of the Sandias from the living room window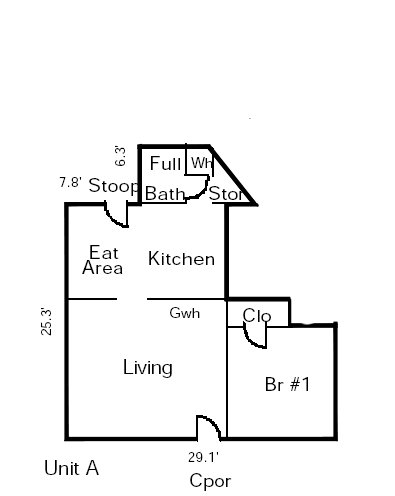 Directions
Go to 2nd street and Griegos
Go south on 2nd.
Take second right (West) on Mescalero Road
Property is on your left with the wagon wheel in the stucco wall
---

Hassan Investments, LLC
300 Menaul Blvd NW #A467
Albuquerque, NM 87107
575-221-9277 (text or call 24x7)
hassan@hassan.net